BWH Women In Medicine Instagram
Our Women in Medicine (WIM) program seeks to foster gender equity within the BWH IM Residency and beyond. We sponsor curricular programming to nurture leadership and self-advocacy skills among residents who self-identify as female, as well as social and curricular events open to residents of all genders that raise awareness of gender-related issues in and outside of medicine.  We seek to be an inclusive and affirming community within the residency and to partner with other equity-related initiatives from an intersectional stance.
In addition to formal programming, we have spearheaded initiatives to study instances of unconscious gender-related bias within our residency (e.g. gender disparities in faculty discussants at morning report and gender disparities in recognition of resident scholarship) and have implemented solutions to address these.
Why did you choose to train at BWH?
Brigham combines rigorous clinical training with the support and schedule you need to be a whole, happy human outside of medicine. You can do anything here, and you will be supported!
Why did you choose to train at BWH?
A major reason was the primary care track. I have enjoyed having a smaller network of people within the larger program who love primary care and who are passionate about social justice and health equity.
What do you love most about the Brigham Family?
Having co-workers who not only want the best for patients and their families, but also for their colleagues and daily provide support for each other to ensure this is realized.
What do you love most about the Brigham Family?
We take our jobs seriously without taking ourselves too seriously.
What do you love most about the Brigham Family?
We get to do something meaningful for people every day. Watching my co-interns and residents take care of patients is one of the most transformative professional and personal experiences of my life.
What do you love most about the Brigham Family?
Everyone has their own focus and ability to contribute to making medicine (and the world) more equitable and just. We are all able to uplift and encourage each other in whatever we choose to do.
What do you love most about the Brigham Family?
It is such a vibrant community of talented residents who advocate for their patients and colleagues!
The WIM program sponsors 3 annual half-day retreats for residents who self-identify as female. Each retreat comprises interactive curricular programming and social events.
Senior Retreat: Negotiation Skills
Junior Retreat: Effective Self-Promotion and Communication
Intern Retreat: Transition to Junior Year / Leading Teams
We sponsor an array of social events throughout the year, with the goal of bringing female residents from various years together for fun, food, and camaraderie. These events, such as the perennial wine and cheese mixer, are always popular. We also have implemented a negotiation workshop for our graduating seniors to assist in best navigating the job search and beyond (see picture below).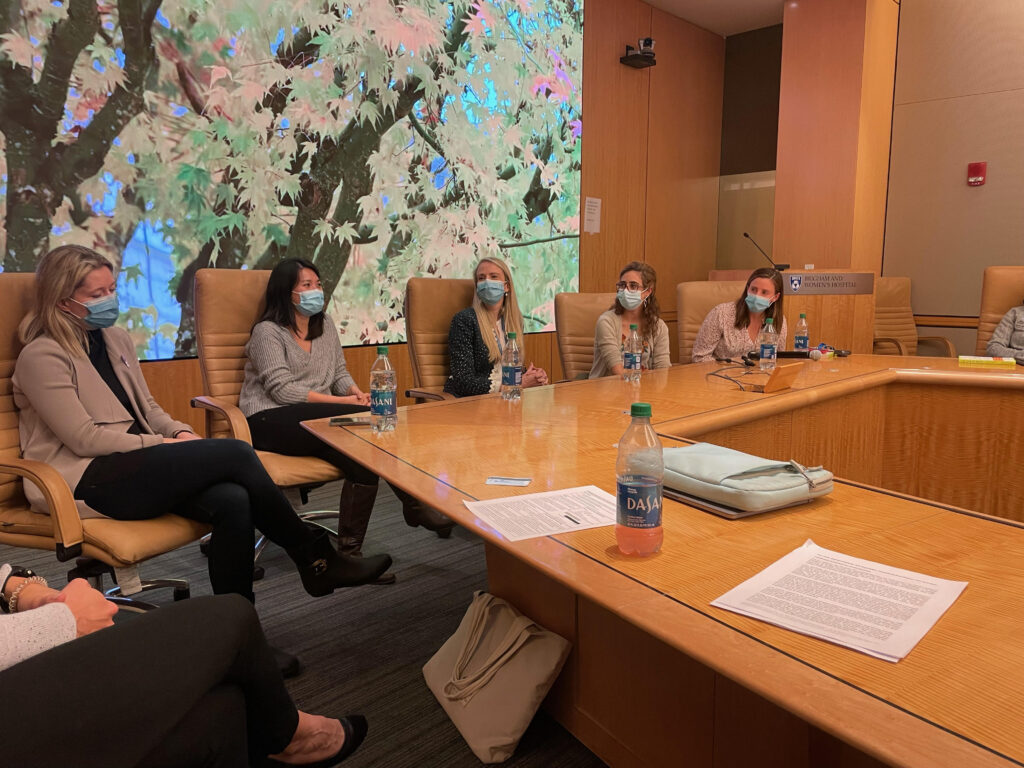 Ice cream social/welcome event for new interns
Resident / faculty dinners twice per year
Annual gender bias noon conference
Resident-hosted "Lean In" groups
2019: Curated tour of Gender-Bending Fashion exhibit at Museum of Fine Arts
2019: financial planning workshop for women