Brigham and Women's Hospital
Internal Medicine Residency Program
Thank you for your interest in the Internal Medicine Residency Program at Brigham and Women's Hospital. We are dedicated to providing outstanding clinical training and individualized mentorship to enable our residents to become excellent clinicians and leaders in medicine. With our rich academic environment, we are committed to advancing health equity and racial justice, fostering creativity and innovation, pursuing new medical knowledge through research and discovery, and cultivating humanism in medicine. Our program's culture and leadership support each of our residents to achieve their goals while belonging to a vibrant and supportive community.
For the 2022 to 2023 recruitment season, will be conducting all residency interviews virtually. We are committed to doing so in a way that ensures equitable access for applicants from across the country and world, regardless of whether or not you have had a chance to rotate at or visit the Brigham. We also want to clearly state our commitment to strengthening our program and our entire Department of Medicine by recruiting and supporting physicians from groups who are historically under-represented in medicine.
We hope that you will have the opportunity to explore our training program through our online resources and to appreciate our dedication to patient care, education, research, and commitment to each other's professional and personal goals.
Sincerely yours,
Maria A. Yialamas, M.D.
Bruce D. Levy, M.D.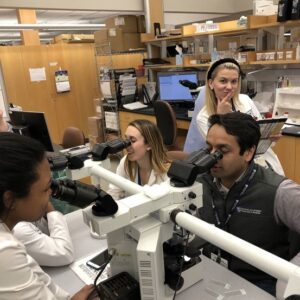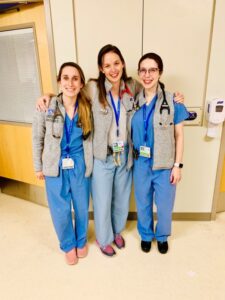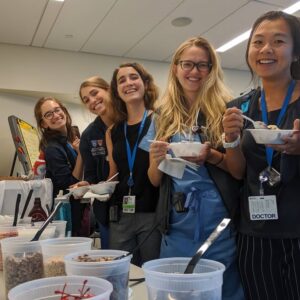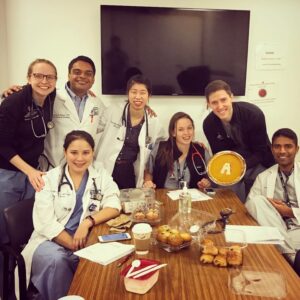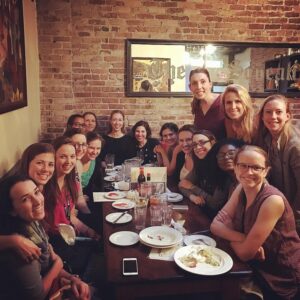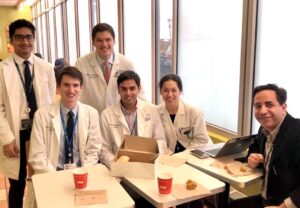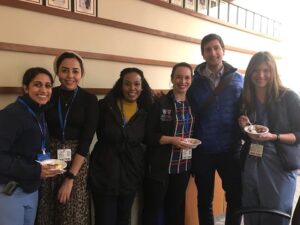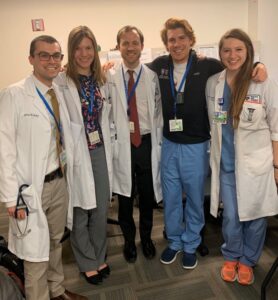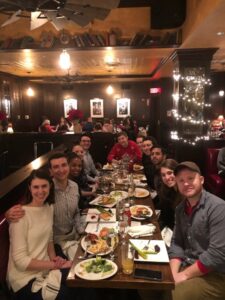 Why did you choose to train at BWH?
The people! It's true what everyone says -- people here are incredibly kind and caring and when you're working long hours during residency it really does make all the difference. I also felt like I could tailor the experience here to my interests as they evolved over the course of residency.
I chose to come to BWH so that I could train with co-residents, fellows, and faculty members who share the same core values. As a group, these individuals were all invested in training capable physicians while also helping residents develop into effective educators, advocates, and researchers. When I met current residents or graduates from the program, they invariably told me that being a part of the Brigham Family had helped shape them into the physician they had hoped to be. I was amazed at the energy and enthusiasm with which they talked about their experience. It seemed like a truly special place and I have absolutely found that to be the case. I continue to be inspired by my co-residents every single day and remain so grateful for the opportunity to work alongside them.
The biggest thing I was looking for when I applied to residency was the opportunity to train in a supportive environment that would simultaneously challenge me to grow to be the best doctor I can be. I also looked for institutions that both respected and supported residents who were interested in primary care, so finding that much of the program leadership, including Joel, Maria, and Marshall all practiced primary care in their careers was inspiring. Finally, I wanted to have the option to balance my clinical training between an academic setting and the community, which BWH allows us to do given that we are at the main hospital for the majority of our inpatient time, but I still am able to practice primary care in a federally qualified community health center in Dorchester.
I chose to train at BWH because of the outstanding clinical training coupled with infinite resources and support to thrive in whatever you are most passionate about, be it research, global health, medical education, and if it is something novel, our leadership will guarantee the resources to help achieve it
I chose BWH for its exceptional clinical training in a collaborative environment, broad range of research exposure, and opportunities to grow as a medical educator.
During my interview at BWH, residents and faculty emphasized the program's commitment to excellence, but also to maintaining our own humanity so that we can grow to be brilliant physicians that still care, hurt, and cry with their patients. That message resonated with me, as I wanted to train hard, but also be able to remember the reason I went into medicine in the first place by the end of these 3 years.
BWH invests heavily in the future of every single trainee, irrespective of what that future might look like. Leaders throughout all realms of healthcare – clinical medicine, research, health policy, advocacy, global health, education – live right here at the Brigham, and I think this speaks to the institution's emphasis on training not only outstanding clinicians, but also future leaders in medicine.
I have always wanted to combine a career of clinical medicine with health policy and management. I chose to train at the Brigham because I knew that I would have a strong clinical skillset coming out of the program. Given my policy interests, I also knew that the Brigham and the broader HMS community was home to scholars and executives who have made a significant impact on American healthcare policy. It's been a privilege to count these individuals as mentors and friends.
BWH is a leader in global health equity, and I was attracted to Boston for its community of organizations centered on social medicine and gender equity. But regardless of your passions, Boston has so many hospitals and universities, it feels like there's endless opportunities to connect across the city. It's also been fun to leave the city to explore hiking and coastal towns in Cape Cod, Vermont, New Hampshire, and Maine.
Excellent clinical training with a strong emphasis in having interests outside of typical clinical practice, whether it be healthcare leadership, health policy, social justice, biotech industry or basic science research you will be strongly supported and receive the resources you need to thrive. The opportunity to also receive an MBA or MPH is also unrivaled
What do you love most about the Brigham Family?
I imagine many of us will say the same thing, but the people are what I love most. I have made some of my best friends in this program and am constantly inspired by the people with whom I get to work everyday. We are all very much committed to taking the best care we can of patients, and that shared mission shines through. It's a special place to be able to come to work everyday.
I love how everyone is so incredibly supportive and interested in learning and teaching. In addition to everyone having such diverse clinical interests, I love that most have extra-clinical interests, whether that be research, advocacy, health services delivery, start-ups and many more! It's such an incredible privilege to work and learn in this community.
I love that there is a shared sense of always wanting to do what is best for the individual patient while also working to help address broader injustices. The moment I was most proud to be a resident in our program was when six interns organized and led an institution-wide peaceful demonstration, "BWH for Black Lives" in June 2020. Furthermore, residents in our program always support one another and embody those qualities that make for an effective learning environment where we can all grow and improve together even during exceptionally challenging times like the current pandemic. This mentality fosters a collaborative culture that allows us to learn from one another and develop into effective physicians, educators, innovators, advocates, and leaders who go on to work in many different arenas. Regardless of the specific next step after residency, graduates of our program carry that sense of community with them and use it to help create positive change in the world. I truly cannot imagine a more close-knit community and that connection between members of the Brigham Family lasts a lifetime.
Everyone here is just exceptionally hard-working and doing their best to treat their patients and each other with kindness and respect. The residents see their job as active mentors/teachers for the interns and no one is left to worry alone. This is not a place where your work and learn in isolation. While many people are interested in Onc/Cards/Science there is so much diversity beyond this in people's interests and goals. It is just a wonderful and motivating place to train.
Each resident I've worked with at the Brigham - PGY1, 2, or 3 - has been completely supportive of me as a new intern. There are no mistakes in your seniors' eyes, just learning opportunities. The residents are great at what they do in the hospital - thoughtful, diligent, dedicated. But even more importantly, they are kind people who support your life outside the hospital. They're critical and vocal about socially unjust systems. They will advocate for you just as much as they'll advocate for their patients.
The Brigham Family really does feel like a family to me. No one ever worries alone. We work hard daily to provide the best care for our patients, and we prioritize taking care of each other too. I look forward to going to work, largely because I look forward to spending the time with my colleagues; I know that I am going to be surrounded by compassionate, humble, innovative, motivated, and supportive individuals who inspire me daily. Who knew that residency could be so fun!
Follow Us on Social Media